The Indian food services industry is growing at a steady pace of 10% YoY and is estimated to be valued at a whopping $75 billion by 2021. New restaurants keep coming up every other day and like any other business, the challenges faced by the restaurants are aplenty. As a restaurateur, it's important to find your differentiating factors and stay abreast of the competition.
Customer experience is one of the most important parameters to measure the health of any business. "Customer is god" has been said time & again. Surveys have shown that majority of the customers are willing to spend more for exceptional service. Thus, it becomes imperative to know and understand what your customers are saying.
One of the best ways to understand your customers is through feedbacks. Restaurants have been using paper feedback forms for some time now but they aren't the best way to collect feedbacks. It's difficult to go through a mound of paper forms, understand and analyse the response and then take some action on it. This also means you end up losing out on the opportunity to interact with your guests at the moment when they had actually been to your restaurant, had their meals and shared the feedback. Feedbacks submitted on paper are also not the best indicators of customer experience in most cases since customer are always in a hurry to leave once they are done with their meals and cleared their bills.
Digital feedback forms are the better choice. Digital responses are real time so they enable you to take quick action. Feedback reports also help you analyse responses and take appropriate action wherever required. An aesthetically designed digital feedback form, presented on a high resolution tablet device, also encourages customers to share proper feedback. Feedbacks can also be taken by sharing multiple choice questions on a link to the guests' mobile phones.
A feedback form is also a good way to collect customer data. Information such as mobile number, email id, date of birth, anniversary etc. can be easily captured and stored. You can then offer rewards and incentives to your loyal customers to engage them continuously and ensure repeat business. With information such as customer data and order history, which tells you about customers' eating patterns, highly targeted and personalized messages regarding loyalty programs can be sent to customers. Birthday/ Anniversary greetings can also be sent to customers so that they are made to feel special on their special day.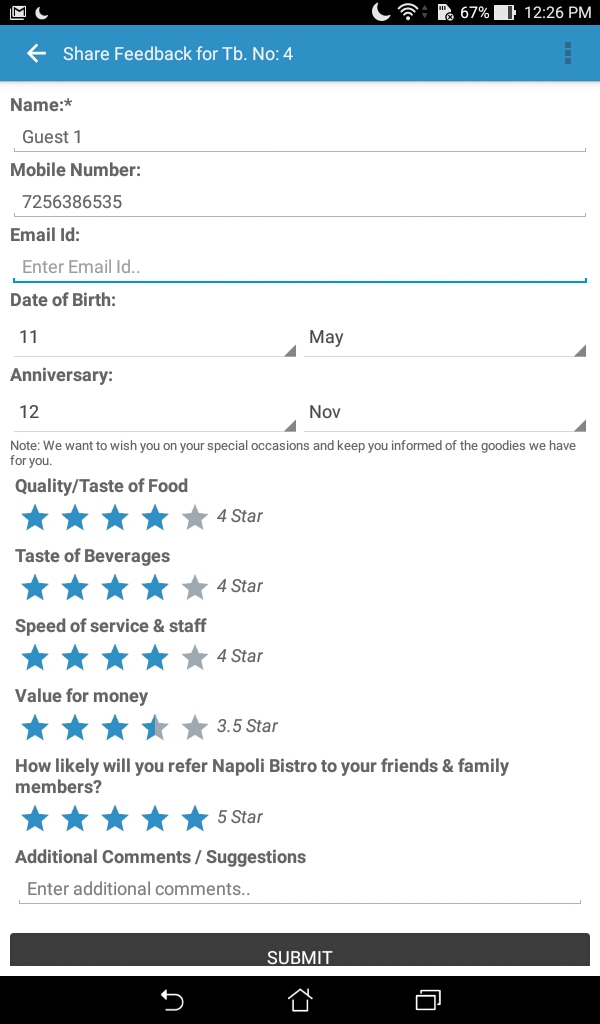 Feedbacks are a good way to show your customer's that you care about them and are willing to listen. It's a good way to make them feel heard and to engage with them through campaigns & greetings messages. Since it becomes essential to listen and respond to customers, feedbacks become a mandatory requirement to your restaurant business.
Solution Built For Your Restaurant
100+ happy partners in Bangalore. Schedule a free demo from our expert to know how SpeQue can help you in your business growth.
Request Free Demo